The Society for One-Place Studies have put out a series of prompts for One Place Study bloggers and for Social Media posts. I was very keen to include Axedale Then and Now, as prompts such as these, make me stop and think and often lead to me publishing posts on topics that I may not have thought about, otherwise. They also keep me accountable. The prompt for January is Landmarks. I have chosen Lake Eppalock as my Landmark topic.
Lake Eppalock
Lake Eppalock is a huge man-made reservoir of water situated just outside Axedale. Between 1961 and 1964, a large artificial earth and rock dam was created with a spillway across the Campaspe and Coliban rivers. This water was intended to be used for irrigation by farmers of the Campaspe Irrigation district, along with water supply to Bendigo, Heathcote, and in recent years, Ballarat.
Lake Eppalock was built by the State Rivers and Water Supply Commission. The dam wall is 45 metres high and the main embankment 1041 metres long. The surface area of Lake Eppalock is 3011 hectares.
In years of drought, water levels can get very low. Recreation activities are not possible at these times. When water levels are low, many historical sites are exposed. It's possible to see ruins of old homesteads, machines used by miners during the gold rush, stone fences, bridge ruins and other items of historic interest.
The photo below shows the ruins of a bridge that existed before the Lake Eppalock area was flooded. This photo was taken in 2009, when Lake Eppalock was almost empty due to severe drought. Only one year after this photo was taken, the drought broke, and heavy rain once again filled the lake. – fadingvictoria.com
Lake Eppalock is also very popular for water sports, with boating, skiing and fishing enthusiasts flocking there during the summer months. There are caravan parks and camping grounds on the foreshore which, in the summer months, when water levels are high, are packed.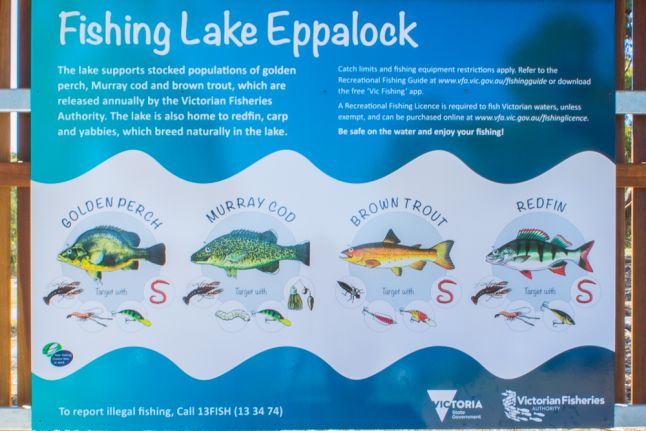 Unfortunately farmers and landholders were forced to leave their farms when the State Government made the decision to acquire land in order to build the Eppalock Dam to provide water during crippling droughts. In 2001, a monument was erected on the banks of Lake Eppalock in memory of those who lost their land. The monument features names of people who made up the Eppalock Landholders Association in 1960.
*Important Note: The Taungurung and Dja Dja Wurrung people are the traditional owners of the land, and today the land and waterways still remain central to their cultural identity. Their role is recognised as being unique in the life of this region.
Sources:
wikipedia
State Library of Vic
bendigoadvertiser.com.au
Trove.nla.gov.au
goldfieldsguide.com.au
fadingvictoria.com
State Library of Cictoria
State Rivers and Water Supply Commission Victoria
Google Maps
©2021 copyright. All rights reserved axedalethenandnow.co