From: The Weekly Times, Melbourne, Vic 1869-1954, Saturday 13 January 1900, page 26
THE AXEDALE DISASTER
INQUEST AND VERDICT.
The adjourned inquest on William John Langley, Benjamin Burston, and Blanche Hoskins, who were killed in the New Year's Day railway disaster, was resumed on Monday, before Mr Dwver. P.M.. and a jury of seven.
The Coroner, in summing up, said that it was clear that the engine driver had given two whistles, which were heard by the drivers of other vehicles. It seemed clear that the responsibility of the accident rested upon James Brown, the driver of the vehicle. He apparently was lost in thought and heeded nothing. It was for the jury to seriously consider whether he was guilty of manslaughter.
After an adjournment of an hour and a half, the jury brought in a verdict that the deceased met with an accident by a collision between the cab and the train, and that the driver of the vehicle was guilty of negligence, but not wilful negligence; that the railway department contributed to the collision by not having the belt of timber at the approach to the crossing removed; and that they (the jury) were of opinion that the whistle, when approaching the crossing, should have been of much longer duration. The Coroner said that the verdict regarding James Brown was ambiguous. The jury, after a consultation, said they did not find him guilty of manslaughter.
*Please note: Punctuation and paragraphs have been added to the above transcription for ease and speed of reading
The plaque below was erected in memory of those who died in the New Years Day railway accident.
The marble tablet below, was erected by teachers, scholars and friends of St Paul`s Sunday School in memory Blanche Lois Hoskins, John Langley and Benjamin Burston who died from injuries received in the New Years Day train accident.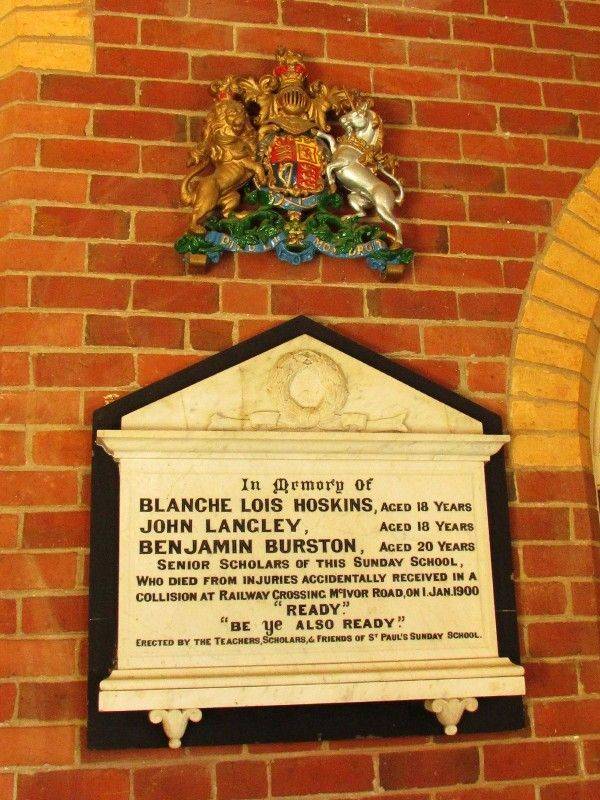 From: The Argus (Melbourne) 20 June 1900
A large congregation assembled at St Paul's Church on Tuesday night, when Archdeacon MacCullagh unveiled a tablet in memory of Blanche Lois Hoskins, Benjamin Burston, and John Langley, the victims of the New Year's Day railway fatality. Archdeacon MacCullagh referred at some length to the circumstances surrounding the calamity in terms of regret and sorrow, and a special service was held in connection with the ceremony.
The Argus (Melbourne), 20 June 1900.

THE AXEDALE DISASTER. (1900, January 13). Weekly Times (Melbourne, Vic. : 1869 – 1954), p. 26. Retrieved March 24, 2021, from http://nla.gov.au/nla.news-article222521897
©2021 copyright. All rights reserved axedalethenandnow.com